A Swinging Finish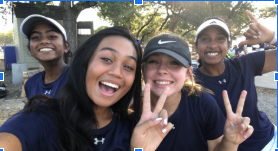 The tennis team finished its season the week of Oct. 4 with a total of 5 wins and 5 losses. This includes the routine doubles and singles matches as well as the bigger event of the fall season.
 The district tennis tournaments are an opportunity for the top ranking tennis players on each team of the RRISD school teams to compete against each other in either a singles match, doubles match, or both.     
"We prepared for districts everyday after school with practices and drills that prepare us for situations that could happen during the match," sophomore Mollie Garret said.
Tennis districts started on Oct. 2 and were carried on through Oct. 4. The playoffs started off with McNeil beating Stony Point and advancing to the second round.
"I felt confident during my doubles match because of my partner Harhshita," sophomore Sanjana Ganganamani said. "I've been playing doubles with her since my freshman year and we've improved so much since."
At the second round McNeil lost to Vista Ridge and wasn't able to continue on to the third round.
"We need to believe in ourselves, get on the court and do what we know how to do," senior Harshitha Dhulipala said. "We need to communicate and work together to face any opponent."
Summary of Results from the 2019 fall season:        
Singles and Doubles:
McNeil vs Stony Point—McNeil won
McNeil vs Round Rock—Round Rock won
McNeil vs Connelly—McNeil won
McNeil vs Vista Ridge—Vista Ridge won
McNeil vs Vandegrift—Vandegrift won
McNeil vs Austin—Austin won                                             
McNeil vs Leander—Mcneil won 
McNeil vs Phlugerville—McNeil won
District tournament results:
Round 1: Stony Point vs McNeil– McNeil won 
Round 2: Vista Ridge vs McNeil–Vista Ridge won 
Round 3: Vista Ridge vs Westwood–Westwood won
Region: (finals):
Westwood vs Vandegrift–Westwood won
Round Rock vs Vandegrift–Round Rock won
District Tournament Final results: 
                      1st: Westwood
                      2nd: Vandegrift
                      3rd: Roundrock                                                        
About the Writer
Shreya Rajavelu, Reporter
Hey! My name is Shreya Rajavelu and I'm a sophomore reporter. I'm passionate about writing and music and am part of the varsity choir 'Chambers' ...