NFL News and Predictions: End of regular season, pre playoffs
Who is in the playoffs, and who will be crowned Champion of Super Bowl 55?
Jan 4- The 2020 National Football League (NFL) Regular season came to a stunning and controversial end on Sunday night, when the Washington Football Team defeated the Philadelphia Eagles on National Television. We've got a lot to get into, so let's not waste any more time. 
Let's start with why that Sunday Night Football game was indeed controversial. Week 17 of every season always features Divisional matchups. Usually the Sunday Night Football game features a game with massive playoff implications. In this case, it featured the dumpster fire of the NFC East. By week 15, it was obvious a team with a losing record would win the division. With the Eagles having been eliminated from playoff contention, it came down to a three way shootout between the Dallas Cowboys, the New York Giants and Washington. For Washington it was Win and they were in the Playoffs. For the Cowboys and the Giants, who were facing off against one another, had to win, and Washington had to lose to the Eagles. The Giants would go on to win that game against Dallas 23-19. Both teams finished with a 6-10 win/loss record on the season (The Giants won the tiebreaker over Dallas based on their Divisional records. NY was 4-2 in the NFC East, whereas Dallas was 2-4). The Giants, who had the late Afternoon game, then settled in to root for their rivals, the Eagles. Fast forward to that SNF Matchup. Late in the Fourth Quarter, Washington was up 20-14. If this score holds, the Football Team is in the playoffs. The Eagles got the ball back with around a Minute left in the game. If they scored a TD and kicked the Extra Point, they would win 21-20, and New York would make it in. But at the start of the 4th quarter, Eagles Head Coach Doug Pederson benched starting Quarterback Jalen Hurts. Third String QB Nate Sudfeld could do little to nothing against the Football Team's beast of a defense, and the Football team would ultimately win the game 20-14. With the win, they finished the Season with a 7-9 record and won the NFC East. By rule, Washington was in the Playoffs. Whilst Washington was celebrating making the playoffs for the first time since 2015, many Eagles fans and players, along with most Giants fans and players were ticked. Many, including myself, believe the Eagles intentionally threw the game. Pederson would say in a Post-game interview that he was coaching to win, and we don't know what he was thinking when he sat Hurts for Sudfeld. 
In other quick NFC news, the Green Bay Packers would clinch a First round BYE week (A week in which they don't play) and the number 1 NFC Seed after defeating the Chicago Bears 35-16. The Packers will face the highest remaining seed after Wild Card weekend in the Divisional round. They ended their 2020 season matching their 13-3 record from 2019.   
Despite the Packers loss, and losing 6 straight after a 5-1 start, the 8-8 Chicago Bears would make it into the Playoffs after the Los Angeles Rams beat the Arizona Cardinals that same day. The Cardinals also finished 8-8, but Chi won the tiebreaker based on common record against opponents. As the Number 7 seed in the NFC, the Bears will face the number 2 seed New Orleans Saints, who finished 12-4, in New Orleans on Wild Card Weekend. 
Over in the AFC, the Miami Dolphins would miss the playoffs despite a 10-6 Record. The Indianapolis Colts, Cleveland Browns and Baltimore Ravens all finished with 11-5 Records and claimed the 3 wild card slots in the AFC. Don't worry Dolphins fans, on a Bright note, your team finally looks to be coming out of your rebuild that started over 3 seasons ago. Quarterback Tua Tagovailoa looks to be your QB Messai y'all have been looking for since Dan Marino retired way back in 1999. And Brian Flores seems to be one the Better coaches that has come out of New England's Belichick tree.     
As Mentioned Before, the Cleveland Browns finished 11-5 and have made the playoffs for the first time in 17 years. This is an insane turnaround from the Browns who finished with an 0-16 winless season just 3 years ago. As the AFC's 6th seed, the Browns will have a rematch against the 3rd seed Pittsburgh Steelers, who they beat in week 17 to boost them into the playoffs. Your offense finally seems to be clicking, and all those beast defensive players y'all have been drafting for the past few years finally seem to be paying off. I'll be rooting for y'all. Please, Cleveland, do not mess this up. 
Here's how Everyone Finished (Each teams division will be in Parenthesis) 
NFC:
1st Seed: Green Bay Packers, 13-3 Record (NFC North)
2nd Seed: New Orleans Saints, 12-4 Record (NFC South)
3rd Seed: Seattle Seahawks, 12-4 Record (NFC West) *Note A*
4th Seed: Washington Football Team, 7-9 Record (NFC East) *Note B*
5th Seed: Tampa Bay Buccaneers, 11-5 Record (NFC South
6th Seed: Los Angeles Rams, 9-7 Record (NFC West)
7th Seed: Chicago Bears, 8-8 Record (NFC North)
Notes:
A- New Orleans finished ahead of Seattle based on Conference Record. New Orleans was 10-2 in the NFC Vs. Seattle who was 9-3. 
B- Washington Finished ahead of Tampa, LA and Chicago based on the NFL's current rules. DIvision winners are seeded 1-4 regardless of record, and the top 3 teams with the best records who DID NOT win their divisions are seeded 5-7 as Wild Cards.  
AFC: 
1st Seed: Kansas City Chiefs, 14-2 Record (AFC West) 
2nd Seed: Buffalo Bills, 13-3 Record (AFC East)
3rd Seed: Pittsburgh Steelers, 12-4 Record (AFC North)
4th Seed: Tennessee Titans, 11-5 Record (AFC South) *Note A*
5th Seed: Baltimore Ravens, 11-5 Record (AFC North) *Notes B, C*
6th Seed: Cleveland Browns, 11-5 Record (AFC North) *Notes B, D*
7th Seed: Indianapolis Colts, 11-5 Record (AFC South *Notes A, C, D*
Notes:
A- Tennessee Finished ahead of Indianapolis based on Division Record. The Titans were 5-1 in the AFC South vs. Indy who was 4-2.
B- Baltimore Finished ahead of Cleveland Based on Head to Head sweep. 
C- Baltimore Finished ahead of Indianapolis based on Head to Head victory.
D- Cleveland Finished ahead of Indianapolis based on Head to Head victory.
Super Bowl Prediction: Buffalo 42, Green Bay 35
AFC Championship Game Prediction: Buffalo 28, Kansas City 24
NFC Championship Game Prediction: Green Bay 21, New Orleans 20
About the Writer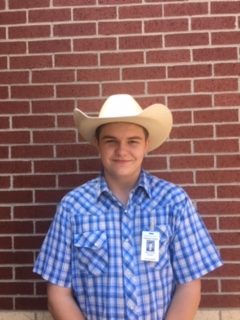 William Thomas, Sports Editor
Howdy, my name is William Thomas. I'm 17 years old, this is my third year on staff, my fourth in the journalism department, and my first as Sports Editor....