Georgia Defeats Ohio State in Comeback, Looks to Become Back to Back Champions
The Georgia Bulldogs went into their New Years Eve playoff matchup with Ohio State projected to win. Despite the rankings and the storylines, this was one of the most evenly matched games of the year, being decided in the final seconds by just one point, with Georgia coming out on top.
After both teams failed to score on their first drive, Ohio State drew first blood after CJ Stroud threw a 31 yard scrambling touchdown to Marvin Harrison Jr., taking a 7-0 lead. Georgia then came back using mostly the run game to get down the field before scoring a 25 yard touchdown to tie the game 7-7. 
The connection between Stroud and Marvin Harrison Jr. continued to be deadly as they got Ohio State into the red zone where running back Miyan Williams powered it in from two yards away to reclaim the lead for the Buckeyes 14-7. On the first play of the next Georgia possession, Stetson Bennett threw an interception to linebacker Steele Chambers, setting up Ohio State at the Georgia 30 yard line, which led to another Stroud touchdown to Marvin Harrison Jr., this time Stroud having to run away from pressure. With Ohio State leading 21-7, Georgia got downfield quickly with a long pass play from Bennett, which led to an 11 yard touchdown rush to Kendall Milton, cutting into the lead. Once Georgia had the ball back, Kenny McIntosh gashed the Buckeyes secondary with a huge run that led to a Bennett touchdown run to tie the game, 21-21. After another Georgia field goal, the Bulldogs took a 24-21 lead, before Ohio State drove down the field in a four play drive that ended with a 37 yard touchdown from Stroud to Xavier Johnson. At halftime, to many people's surprise, Ohio State led 28-24. 
After a stop on defense, Ohio State used their lethal air attack to get into the red zone, where Emeka Egbuka would get a 10 yard touchdown catch, giving him his first and Stroud his fourth of the night, but more importantly, it gave Ohio State a 35-24 lead. Getting the ball back, Ohio State once again threw the ball into the red zone, but on a third and goal, Stroud had to scramble away from a sack and tried to lob the ball into the back of the end zone for Marvin Harrison Jr., who took a big hit from Georgia defensive back Javon Bullard, which would knock Harrison Jr. out with a concussion, changing the game. Without the threat of Harrison Jr on the field, Georgia could focus their attention on the rest of the Ohio State offense, causing Ohio State to only be able to score six points from there on. 
Down 38-24 entering the fourth quarter, Georgia was going to have to play their best in order to come back and win the game. Once again getting down the field using the run game, they were forced to kick a field goal to make the score 38-27. On defense, they were able to force a punt, which they would take immediate advantage of, scoring a one play 76 yard touchdown with Arian Smith, who lost his defender Lathan Ransom, and after a two point conversion, all the sudden, the score was 38-35. Ohio State looked to put the game away with a touchdown, put with a the lack of success of the rush game, they were forced to throw the ball, but with no Harrison Jr., Georgia's coverage downfield was great the entire fourth quarter, forcing Stroud to have to use his legs to pick up yards. That managed to get them into Georgia territory, but it wasn't enough to score a touchdown, and Ohio State had to settle for a field goal, taking a 41-35 lead, which while it was still good, all Georgia needed was a touchdown. Bennett knew what was on the line, and made his best throws of the night, throwing a 10 yard touchdown to Adonai Mitchell to give Georgia a 42-41 lead. The ball was given back to Stroud with 40 seconds and two timeouts to work with. With nothing open downfield, Stroud scrambled all the way downfield 30 yards to get Ohio State into field goal range with just seconds left of the clock. The game came down to a 50-yard field goal from Noah Ruggles, who had been very good in his Ohio State career. On 4th down, he hooked it wide left, and Georgia survived to play in the National Championship Game, sending Ohio State home in heartbreak. 
Ohio State showed how to put up points against the Georgia defense, and with the Bulldogs going to the National Championship to play TCU, it'll most likely be something that the Frogs use against Georgia. A team trying to become the first College Football Playoff back to back National Champions, and cap a perfect season.
Leave a Comment
About the Writer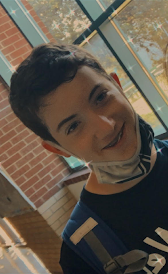 Logan Bills, Reporter
This is my third year as a member of the Trailblazer staff. I'm a sports reporter for the 23-24 school year. I like playing and watching sports, and...