TCU Stuns Michigan, Hands Wolverines Second Straight Playoff Semifinal Loss
Going into Saturday afternoon, almost everyone had pretty much written off TCU against undefeated Big Ten champion Michigan Wolverines. Something they proved shouldn't have happened. A back and forth game filled with points came down to the last drive, where TCU took home the win and a spot in the National Championship Game. 
TCU struck first, intercepting a pass from JJ McCarthy on the second Michigan drive and taking it back to the end zone for a pick six to give the Frogs a 7-0 lead. After getting the ball back, TCU used a big play to get to the one yard line, where Max Duggan ran it in himself to give TCU a 14-0 lead to end the first quarter. Not the start many people expected. 
After a field goal and a Duggan interception, Michigan in one play threw it downfield to Roman Wilson, who after originally being called for a touchdown, was ruled down at the 1 yard line. On the very next play, Michigan fumbled the ball and turned it over, changing the game. TCU didn't waste the opportunity, driving downfield seemingly easily and getting into the end zone, taking a 21-3 lead. The game went into half at 21-6, with TCU shocking the entire college football world up to that point. 
Something that was known about Michigan this season is that they were a second half team. They had been down at halftime on the road against both Rutgers and Ohio State, and leading by a very thin margin against others like Penn State, Maryland, Iowa and Purdue. They proceeded to dominate the second half en route to victory. They opened the third quarter with a field goal, interception and touchdown. All the sudden it was 21-16 and Michigan looked like they would win the second half and crush TCU from this point on. However, TCU did their homework, and didn't let that happen. Duggan used his connection with Quintin Johnstonto to get TCU down the field, where Emari Demercado would run it in to give TCU a 28-16 lead. On the next Michigan possession, deep in their own territory, JJ McCarthy threw another pick six, and all the sudden the score was 34-16. Absolutely needing a touchdown to stay in the game, McCarthy used his legs to both get down the field and score, getting that pick six back and making the score 34-22. On the next drive, Emari Demercado constituted to beat Michigan at their own game, breaking off a 70 yard run on the country's best run defense. Another Duggan touchdown run gave TCU another near point lead, this time 41-22. With the third quarter running out, McCarthy threw a strike downfield to Ronnie Bell, who got downed at the one yard line, leading to a Kalel Mullings touchdown, and the game went into the fourth quarter with a score of 41-30. 
With the fourth quarter starting with a TCU fumble that Michigan recovered, Wilson jumped into the end zone for a touchdown, and after a successful two point conversion, all of the sudden the score was 41-38. Duggan rose to the occasion however, throwing a 76 yard touchdown to Johnston, to give TCU back the double digit lead, 48-38. After another TCU field goal, Michigan got a much needed touchdown with Wilson, making the score 51-45, but only leaving about two and a half minutes on the clock. After getting the ball back with about a minute to go, Michigan couldn't get anything going in their last possession deep in their own territory, failing to convert a fourth down, and TCU took a knee to win the game, move on to face Georgia and shock the college football world.
TCU has been doubted all season, coming from behind almost every time, but they find themselves with a 13-1 W record, still standing. They'll have one last test in Georgia, where they'll be doubted again. Can they find the strength to become the best Cinderella story college football has ever seen?
Leave a Comment
About the Writer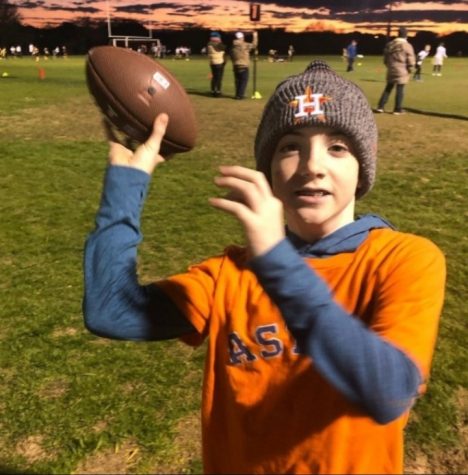 Logan Bills, Reporter
I'm a junior, and this is my second year on the newspaper staff. I'm a sports writer and I play baseball for McNeil. I have a brother and a dog.