March Madness Tournament Tips Off with the First Weekend of Games
The March Madness college basketball tournament began on Thursday, and it was, as advertised, Madness. There were several upsets that have once again ruined the quest for a perfect bracket. The teams remaining have set the stage for the Sweet 16 and the rest games follow. 
Day one had a ton of the top ranked teams playing their first round matchups, and it wasn't long before the first upset happened. In only the second game of the tournament, the Furman Paladins hit a game winning three to shock Virginia in the first round, 68-67, after being down by double digits earlier in the game. After that, a few one seeds in their respective regions in Alabama and Kansas. took care of business. Kansas defeated Howard 96-68 W, and No. 1 Alabama beat Texas A&M Corpus Christi 96-75 W. But then another upset happened, this one bigger than the last. Fifteen seeded Princeton stunned two seeded Arizona by ending the game on a 9-0 run to win 59-55 W to be the third straight fifteen seed to advance to the second round. The next big upset happened on day two, when Pittsburgh beat Iowa State to end a promising Cyclones season, 59-41 W, and advance to the Round of 32. Then, one of the biggest upsets in March Madness history took place as FDU beat top seeded Purdue 63-58 W to become just the second sixteen seed to ever beat a one. 
The first big upset of the Round of 32 happened when Arkansas led a comeback win to shock the defending champion Kansas Jayhawks 72-71 W. Kansas followed in a pattern of defending champions to not reach the Sweet Sixteen for the sixth consecutive year. Then another upset happened as Princeton dominated Missouri from start to finish to move on to the Sweet Sixteen, a third consecutive time a fifteen seed has made it that far. Auburn and Penn State scared Houston and Texas by making their games close, but in the end the better teams proved to be too much for lower seeds. Alabama and UCLA beat their opponents to end day three. Finally, on the last day of the first weekend, Michigan State beat Marquette 69-60 W to end what was a great season for the Golden Eagles and Creighton beat Baylor 85-76 W to once again end Baylor's season in the second round. 
The first two rounds are over, and as we get into the rounds that have actual names, the champion will become clear. Even though upsets eliminated some tournament favorites, the best teams still remain.
Leave a Comment
About the Writer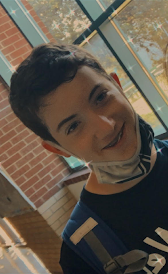 Logan Bills, Reporter
This is my third year as a member of the Trailblazer staff. I'm a sports reporter for the 23-24 school year. I like playing and watching sports, and...