The Thespian Brew Returns to the Stage
The Thespian Brew recently restarted its operations after an approximate two year-long hiatus. The shop now opens every Monday and Friday around 7:55 a.m. and closes at 8:50 a.m. 
The Thespian Brew is a coffee shop sponsored and run by members of the McNeil Theatre Department. Apart from coffee, the shop sells hot chocolate and tea for under $5. All profits collected from the Thespian Brew will go towards future theatre productions.
"The Thespian Bew started my freshman year," senior Thespian Brew Manager Lily Wilson said. "There were two seniors that had started it and they had been working on it for a really long time. It's been a part of the theatre program for four years now. I joined the staff originally when I was a freshman because I wanted to get more involved with the theatre department, but now I just do it because I really love it. It's a really great way for the community to come together."  
The emergence of the COVID-19 pandemic back in the spring of 2020 placed a halt on the Thespian Brew's operations. However, the installation of a new coffee shop in the new cafeteria further disrupted the coffee shop from getting back up and running. 
"The school originally was planning to open up their own coffee shop, so we couldn't do it because it would be in direct competition with the school," junior Thespian Brew employee Ben Toedtman said. "But then, the school couldn't get enough people to work at their coffee shop, so they told us that we could. When we knew that we could open back up, our Drama Club presidents sent out a link and we could apply. It was basically a first come, first serve basis for who could come every time they were called."
Besides offering students the opportunity to become more involved with the theatre department, Thespian Brew provides various benefits, such as service hours for Drama Club rewards.
"Working at the Thespian Brew gives you hours, which you can use to get Thespian Points and other stuff like a stole for graduation," Wilson said. "We're also doing something called 'Thespian Guap.' Every shift that an employee works, they'll get a piece of Thespian Guap. Through this, people can get tickets and at the end of your banquet, you'll be able to purchase these big carnival-like stuffed animals. I just think it's cool to see a group of kids come together and give up their free time to do something like this."
A great majority of Thespian Brew employees claim that the institution helps employees and customers alike to meet new people and build friendships. In fact, most say this is what motivated them to initially join and what they enjoy the most about the coffee shop. 
"My favorite experience is honestly getting to work with people, because you get to work together as a team," senior and Thespian Brew Manager Kaia Steele said. "You also get to see your friends, and it's just a really cool experience to make coffee and hang out with them." 
Leave a Comment
About the Contributor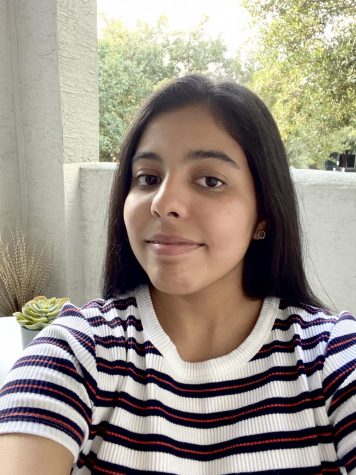 Laura Rivera, News and Life & Arts Editor
Hi, I'm Laura Rivera and I'm a senior this year. This is my third year working for the Trailblazer, but fourth as part of the journalism department....