New Teacher Joins Theater Department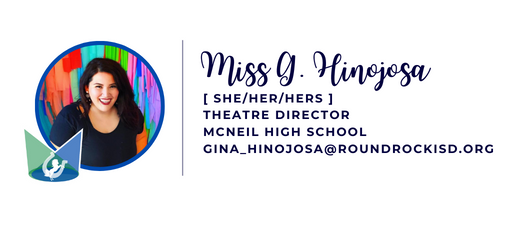 McNeil's theater department gained a new teacher who is filling the position of Carrington Quezada who resigned the weekend before the first day of school. This last minute adjustment to the staff caused some changes in the theater department at the start of the school year. From Aug. 17 to Sept. 2, a rotation  of substitute teachers took over the theater classes Quezada would have been responsible for. During the second week of school, head theater director Aaron Johnson told classes that the process of hiring a replacement assistant theater director was underway. While this unexpected obstacle has temporarily impacted the theater department, Johnson is sure that the event will not affect the school year at large.
"All it really means is that it's business as usual," Johnson said. "We'll do everything we can to make this an awesome year for the students. We always say 'what's best for the kids is what's best for us.' We just want [the students] to have an amazing year."
New assistant theater director Gina Hinojosa was hired a few weeks ago and started working Sept. 6. 
"The hiring process has actually not been terrible," Gina Hinojosa said. "It's been pretty lengthy, but for coming in so late to not just McNeil but to Round Rock ISD, I'd say it's been smooth. Other than the paperwork being approved, everything is ready. Everyone has been incredibly helpful and has been checking in to make sure everything on their end is done. It makes me even more excited to join the McNeil family."
Hinojosa's first order of business as assistant theater director is to lead the first main stage production of the year while getting to know the people around her.
"My priority is getting to know my students and company," Hinojosa said. "I enjoy getting a sense of who they are as people so when I plan lessons or choose shows, they are the reason and I can be sure they will enjoy it. As far as directing, I am currently directing the first show of the season, Lost Girl. It's a big deal for me because not only is it my first show at McNeil, it's the show that will open the new blackbox and I'm pretty excited about that."
According to the UT Department of Dance and Theater, Lost Girl is a continuation of the story of Peter Pan. The story takes place years after she last saw Peter, when Wendy decides that to move on with her life, she must find Peter and reclaim the kiss she gave to him. The performances of the play, directed by Hinojosa, will be Oct. 20-22 at 7 p.m. with a matinee on Saturday at 2 p.m. as well. While Hinojosa is directing Lost Girl, she does many other things in the theater department, many of which were opportunities she was looking for while in her job search.
"The program had everything I was looking for, a costuming class to teach, a musical theater program, really great diversity and a sense of family," Hinojosa said. "It actually wasn't until I had my interview and spoke to [Mr. Aaron Johnson] and Mr. Schuhmann about what the department needed that I just knew this was what I wanted to be a part of. This was what I was waiting for. I also had never felt so supported before and at that point I decided to accept the offer."
Theater is a huge field with many different specializations, and while she earned a degree for acting, Hinojosa has experience in all aspects of theater.
"I have a Bachelor of Arts in Theater Performance from the University of Texas Rio Grande Valley. As far as theater background, I've been in love with theater since preschool and my first play. I have been fortunate to experience theater in all of its aspects, including directing  for 18 years, tech for 12 years, teaching for 15 years and acting of course. Before the pandemic, I left home to become an actor under the Actor's Equity Association Union. That's a fancy way of saying it was my full time job. I have had the opportunity to work with different theaters not only in Texas, but also outside of Texas and have been a part of touring companies."
Hinojosa's classroom is located in the new theater wing, in N109. She is excited to be part of the McNeil theater department and meet new people at school.
"I love theater, great conversation and learning new things," Hinojosa said. "If you're interested in any of those, stop by. Let's talk and learn from each other!"
View Comments(1)