Puffs Play Premieres Prominently
Cast and Crew Reflect on Production
For their fall play this year, the theater department put on "Puffs," a retelling of the story of "Harry Potter" from the perspective of the Hufflepuffs. The performances of "Puffs" were Oct. 28-30 in the little theater and tickets for the shows were sold out in under a week. The auditions for the production were Sept. 7 and the cast list was released the next day, after callbacks. Many actors played multiple roles in the show.
"From the beginning, I really wanted to be involved in the play," sophomore Stanley Bond, who plays Harry, Colin, Hermeoone #2, Ric Gryff and Myrtle, said. "I just loved the story. I loved the characters. I loved reading through the script with my friends in theater class before the auditions even started. Being in the play with all of these talented people is pretty cool."
A few members of the cast, including Bond, didn't expect to get to play a role in "Puffs."
"I wanted to stand in for Harry Potter in one of the scenes because I thought it was a funny line, and I got cast as Harry Potter," Bond said. "It surprised me because Harry Potter also plays Moaning Myrtle and there was a lot of talent in the Moaning Myrtle auditions. I didn't audition at all for Moaning Myrtle, so I felt like I had to live up to the hopes of all the people that I felt were more deserving of the part."
While many actors played multiple characters in the play, some had a favorite.
"I was really excited because I got a really evil character," senior Kaia Kranc-Steele, who plays First Headmaster, Professor McG and Xavia Jones, said. "Xavia Jones is my favorite character that I play because I get to just be completely crazy and scream at the audience."
The play's plot was centered around three Puffs, Wayne Hopkins, Megan Jones and Oliver Rivers. The trio went on various adventures and learned the meaning of friendship. Some students were able to relate to their characters on a personal level.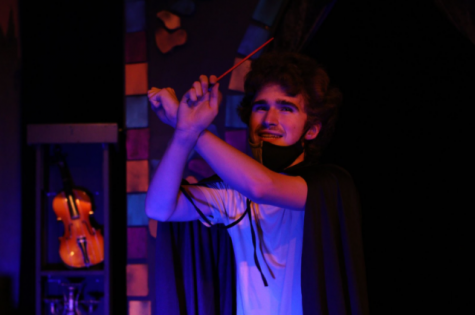 While a couple "Puffs" cast members were new to the process of putting on a play, the cast also had some experienced actors.
"This is my seventh production at McNeil High School," Wilson said. "This one is different because I'm the lead. It's also a lot more heavy in tech and maybe the most ridiculous play I've been a part of, in a good way."
The play is a comedy with many elaborate technical aspects. The tech crew for "Puffs" was selected through a merit-based point system with the larger technical roles, including stage manager, specially chosen by the directors.
"I was honestly pretty certain I was going to be stage manager before I got assigned that role," junior Mia Hodges said. "I wasn't surprised, but I was trying to not get my hopes up before. So, I was still very happy when I found out that I got to be stage manager."
The process of putting on a play differs for the actors and the tech crew.
"In the tech classes, we started with building and painting the sets and getting all the props put together," Hodges said. "During rehearsal, we just helped out where we were needed and filled in for absent actors. Since we started adding tech to the show last week, techies have been backstage helping actors with costume changes and doing set changes."
Actors begin preparing for the show long before technical aspects are added.
"I feel like the rehearsals flew by because we were blocking a couple scenes a day," junior Ben Toedtman, who plays Uncle Dave, Frat Friar, Goyle, Clumsy Longbottom and a Death Buddy, said. "It just felt like we blocked it really fast and then we jumped right into running the whole show. It was just crazy to me how fast we threw this together."
Even with the busy rehearsal schedule, many cast members made time outside of rehearsal to prepare to play their characters using different methods, including some that were less orthodox.
"The character I play is named Wayne Hopkins, so I listened to a lot of Lil' Wayne after I got the role," Wilson said.
Some actors came up with a psychological pre-show ritual to get ready for their upcoming performances.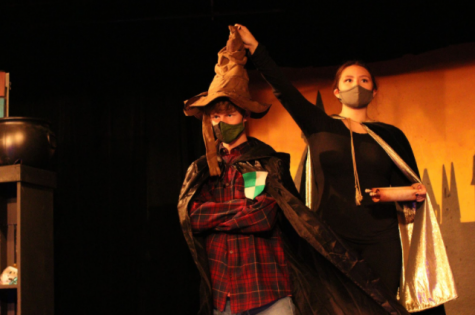 "I made a playlist of a bunch of evil sounding songs," Kranc-Steele said. "I listened to it on repeat to get myself in the mindset of an evil person."
Other pre-show rituals combined physical preparations with mental preparations.
"My pre-show ritual consists of going to the bathroom like four times before the show, just to make sure it's all good," Wilson said. "Then I take a minute to power pose backstage before I go on."
Regardless of how they prepared, the actors' experiences of being in the fall play were pretty new.
"This experience was really great and different because it was only our second in-person show since Covid," Kran-Steele said. "Being back with a full ensemble and full-on rehearsals reminded me how much you put into a show. It just reinvigorated all of the love and appreciation I have for theater."
Leave a Comment
About the Contributor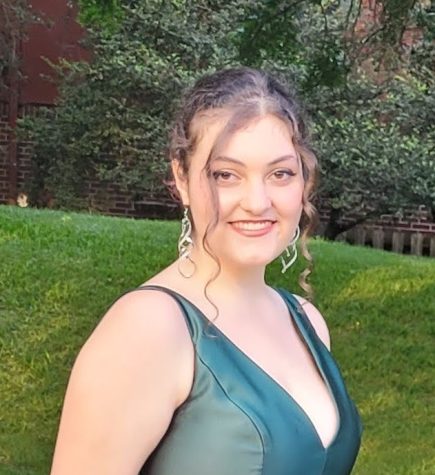 Gabby Cohen, Editor In Chief
Hello, I'm Gabby! Carter and I are Co-Editors In Chief for the newspaper this year. I am a senior and I have been involved with journalism for all of high...