Anything Theater, Gruber Does It All
Keith Gruber has always been excited about anything theater related, whether it be working tech, costumes, acting, singing or dancing. He has also had a lot of experience in these activities especially as of late.
The past two summers, Gruber has participated in Zilker Hillside Theatre productions of "Annie" and "The Sound of Music.". Although the producers made up a street kid for him to play during "Annie," Gruber played Kurt Von Trapp, the fourth of the Von Trapp child. He went through four auditions to see how he and all of the Von Trapp family members worked together. Then there were five weeks of rehearsing and working on tech. "The Sound of Music" produced ZHT's largest crowd in the last 15 years.
"It's so much fun," Gruber said. "You go through a pound of makeup because you sweat it off during the show."
One of his favorite parts of ZHT: every night, the performers' hand motions and facial expressions change, and he enjoys changing along with them.
Zach Scott Theatre has had it's fair share of Gruber as well. He performed in "Just So," for which he received a B. Iden Payne Nomination for Outstanding Young Performer. Gruber also did "Ragtime" at Zach. However, Zach Scott Theatre is not the only theater Gruber is involved with. Austin Children's Theatre put on "Joseph and the Amazing Technicolor Dreamcoat" and had Gruber star as Joseph.
Moving away from actual acting, Gruber created a dress for the Renaissance Festival competition. His grandmother taught him how to quilt and sew. He has become quite advanced in the art, as he was a finalist in the competition. There was an issue when the judges claimed Gruber got help from his mother. Fortunately, the issue was found to be faulty and they apologized for the false accusation.
"I had been gathering ideas since the beginning of the year and I came up with a princess that has a dungeon and kills people," Gruber said. The main part of this dress was the chain which he expressed was also the most difficult component.
In the recent McNeil Theatre Department's play "Harvey," Gruber worked on costumes and enjoyed the shopping trips. Gruber will be in the "Legally Blonde" chorus and has also been working on the musical's costumes.
When Gruber gets out of college, he would like to live in New York, designing costumes for Broadway. He also has a keen interest to design video game character's outfits.
About the Contributor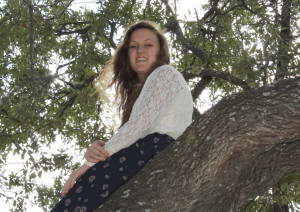 Natalie Cole, --
I am a relatively uninteresting person, I have no sport to call my own, there are no great art pieces with my signature on them. I like to think I live...