Abbott and O'Rourke To Face Off in Debate
The Texas governor debate will take place on Sept. 30 at 7 p.m. between incumbent Republican Governor Gregory Abbott and former Democratic US congressman Beto O'Rourke. The official General Election is on Nov. 8. 
The debate will be the only face-to-face event between the candidates before the election. Nexstar will host and televise the debate in the Rio Grande Valley and in 13 other markets in the state. O'Rourke originally proposed four debates, but Abbott agreed to one. O'Rourke's campaign members are upset that only one debate will occur and believe Abbott prioritizes other political endeavors. 
"We are confident that Governor Abbott can make time for the people he is supposed to serve, given that he is making time for his mega donors at more than 15 high-dollar fundraisers this fall," a release by the O'Rourke campaign says. "We are also certain he has time, since he still refuses to call a special session and get to work preventing a seventh major mass shooting on his watch." 
According to the latest poll by the Texas Politics Project, Abbott has a lead of five percentage points over O'Rourke, making it 49% to 44%. Abbott's campaign prioritizes the security of the Second Amendment with regards to gun rights and the minimization of abortion rights. He also wants to increase the amount of border security between Texas and Mexico. 
"I don't know about a larger crisis than immigration right now in our country," Abbott said in an interview with ABC News. "Two years ago we had the lowest number of border crossings in decades. Today, we have the highest number of illegal crossings into the US ever. If people saw what's going on in the Texas border, they would see there's a crisis." 
In contrast to his opponent, O'Rourke's campaign is centered around fixing the electric grid, tightening gun laws and restoring abortion rights. 
"Those in positions of public trust have stopped listening, serving and paying attention to the people of Texas," O'Rourke said in his political campaign video. "They're not focused on the things we really want them to do. Instead, they're focusing on the kind of extremist policies around abortion and permit-less carry that really only divide us and stop us from working together on the truly big things we want to achieve for one another." 
If interested in registering to vote in the Texas General Election, click here. If already registered and interested in checking the registration status, click here. Early voting begins on Oct. 24 and polls end on Nov. 4. 
To learn more about other candidates running for office in Texas and in local areas, click here.
Leave a Comment
About the Contributor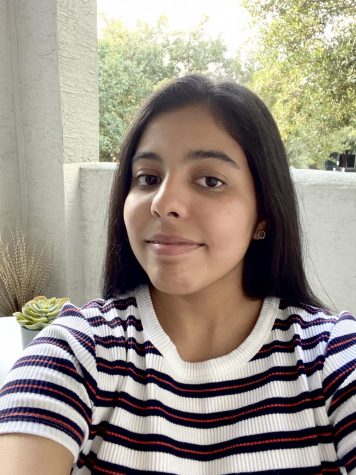 Laura Rivera, News and Life & Arts Editor
Hi, I'm Laura Rivera and I'm a senior this year. This is my third year working for the Trailblazer, but fourth as part of the journalism department....