A Sad Loss But an Even Sadder Ending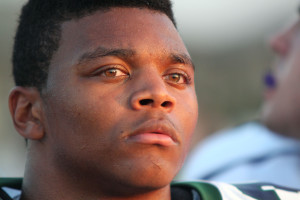 The season opener against Vandergrift planted a loss on the schedule for the Mavericks, but the most important thing it planted was a seed of inspiration. While the scoreboard showed 31-0, the closing moments of the game worsened the sting of loss as senior running back Donnie Holmes suffered a potential season-ending injury.
The Mavericks came out strong in the beginning. As coach Lee Penland said pre-game, he would run a 4-2-5 defense and be multiple on offense. This 4-2-5 defense was strong in the first quarter as the Mavs shut down a long drive by the Vipers with a fumble recovery on the 5 yard line by junior Deandre Conner with 7:27 left in the first quarter. The offense had a rough night as they fumbled the ball the next possession.
Spirits were low and the loss was in view, but the shutout looked to be in the rearview as a couple late big gain runs by Holmes got the McNeil crowd back into it. However, they failed to score and Holmes' injury ended the evening on a sour note. Senior quarterback Colton Russell went 6 for 13 with 48 yards, while Holmes led the team in rushing with 8 attempts and 56 yards. The Mavericks face off against Georgetown Friday at 7:00 p.m. in what will be the first home game of the season. No doubt the Mavs will be playing with their fallen teammate on their minds as they look to improve their record to 1-1.
Leave a Comment