The Loftons Discover a New Hope
When sophomore English teacher Harrison Lofton and his wife, Emily, went to their developing child's 18-week anatomy ultrasound, they expected a fun and exciting day of finally getting to know the gender of their baby. However, they couldn't have ever expected the news they would receive. Their baby had Spina Bifida, a birth defect in which a developing baby's spine doesn't close or form properly.
"Finding out was definitely the worst day of my life," Lofton said. "The doctor came in and was looking at it, and then he said 'I don't like how that looks.' And suddenly, the whole experience changed. He started explaining this thing called 'Spina Bifida' and my wife immediately started crying. He explained there were three options: end the pregnancy, wait for it to be born and do a surgery afterwards, or fetal surgery. I had never been in a position where I had to make a decision where doing nothing was just as potentially consequential as doing any one of the things. They were all really hard decisions and I couldn't get away from that."
By the end of the day, the Loftons decided that fetal surgery was the best course of action for their baby. Through a community group on Facebook, Emily found the CuRe (Cellular Therapy for In Utero Repair of Myelomeningocele) trial at UC Davis Health for the fetal surgery. 
"I don't like Facebook at all, but my wife proved the value Facebook serves to a lot of people," Lofton said. "There were all these moms with babies who have Spina Bifida with pages on Facebook where they could talk and exchange information, advice and vent to each other. She went to one of those communities, and this lady got in touch with her and told her about [the CuRe] trial in Sacramento, and that she could be a potential patient for it."
The couple found out about the condition in April.  However, they had to act fast to get the best results, so the date of surgery was set in July. 
"We went for a consultation in June and went up [to the hospital] like two or three weeks later," Lofton said. "We got the surgery and, from complications, [Emily] had to stay in the hospital the whole time, until our baby was born on September 20th. [She] was incapacitated after surgery and that was a really tough experience for her, and trying to be there for her was too."
Eventually, the month of August came and Lofton had to return to Austin for his job at McNeil, which he interviewed for in the hospital food court while staying with his wife.
"Leaving was definitely the hardest part," Lofton said. "I traded with her mom in August when I came back down for work, and that was really rough."
Luckily, the trial went as well as anyone could have hoped for. When Lofton's daughter Robbie was born, he was able to take a week away from the bustling school hallways to take care of his wife and his newborn daughter.
"It was tough to go up when she was born," Lofton said. "Helping my wife recover, while working and trying to be aware of everyone's needs."
Going into the surgery, Lofton and his wife knew that it was only a trial, and that it  could end up not doing much. However, when Robbie started crawling shortly before the first semester started, the couple gained even stronger confidence.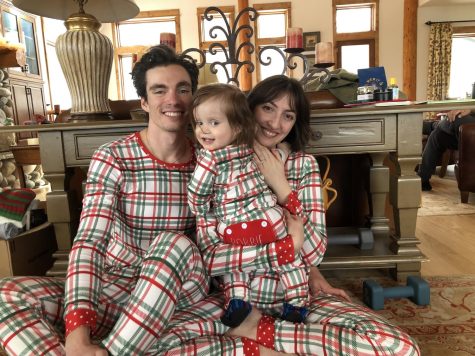 "We got everything we could've hoped for," Lofton said. "We're super happy we chose to do it even though it was super hard. Having multiple surgeries, travel and the money it cost were all super hard, but you can't put a price on the results at all."
Although the experience was grueling, it helped Lofton grow in more ways than one.
"My main takeaway that I recognized immediately was that taking care of my wife in the hospital, especially during the summer, was super fulfilling and all encompassing," Lofton said. "I was without all the things that I enjoy in life, such as my home, friends and family and even little habits that sustain my joy. Being focused on the goal of getting to the delivery, setting up our baby the best we could, and making it to the other side of our hospital stay, the all encompassing pursuit of the goal and helping the person I loved was super satisfying."
Harrison, Emily, and 'Bee' Lofton's story is ever growing and changing, and no one could be any happier with all they've gone through.
"When Bee was born, I loved her unlike I had ever loved anyone before," Lofton said. "Facing a situation like that and coming out okay, was super empowering. It helped me know that whatever comes up on the horizon, it'll probably be fine."
Leave a Comment
About the Contributor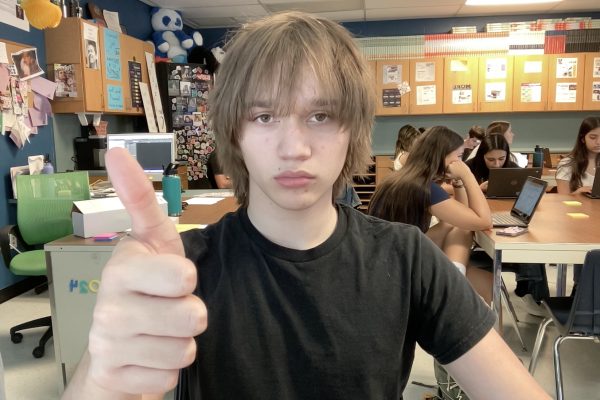 Nikolas Russell, Life & Arts Editor
I am Nikolas Russell and this is my second year on the Trailblazer staff. I work as a reporter and the Life & Arts editor for the 2023-2024 school...