Tasty Treats
FAC students cook, sell meals for lunches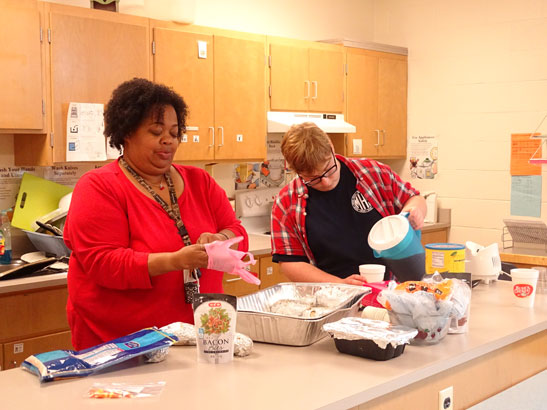 This October, the Functional Academic Classroom is hosting a fundraiser by selling baked potatoes and other foods made, packaged, and sold by students. After years of trying, both classroom teachers, Teresa Freitas and Amy Curtis, have finally to set this in motion.
"We've been trying to do this for a couple of years now, but only recently do we have the right amount of staff to actually begin it," Freitas said.
The money that is raised will be applied to field trips for the FAC students, as well as other occupation-type activities.
"We're definitely going to try to do this sort of thing every month," Freitas said. "Each month is going to be a different food, too."
The main purpose of the fundraiser was to have students engage in community-based opportunities.
"We want them to know what having a job is like," Curtis said. "The responsibilities, and to truly show them what the process is. And we want them to have fun."
Not only does it teach the students about the opportunities ahead, but it also shows them the sorts of jobs that might interest them after graduation.
"It lets me know what kind of job I want after I graduate, and raising money is fun." Sophomore Ricardo Renovato said.
View Comments (2)