McNeil Students Excel in ACE Program
Students who were part of the Architecture – Construction – Engineering (ACE) Mentor Program underwent an evaluation on April 10 of their five month long library construction projects. From McNeil, six students were awarded scholarships that ranged from $1,500 to $10,000. 
The ACE Mentor Program is an activity that offers high school students the opportunity to participate in architecture, construction and engineering projects. As part of the program, students work in teams, along with a mentor, to create models that will later be evaluated by judges. This year, students were assigned the task of designing a library inspired by a foreign city and they met once a week to work on their buildings. Seven scholarships were awarded to students after having their projects evaluated by professionals in the field of engineering. 
"I was so shocked [when I won a scholarship]," senior and winner of a $10,000 scholarship Emily Podnar said. "I was especially happy because a lot of my friends from the program won a scholarship as well and we got to share that experience." 
Podnar designed a library inspired by the city of Rio de Janeiro in Brazil. She first heard about the program last year in her engineering class.
"I enrolled last year because I really wanted to try new activities," Podnar said. "It ended up being the most rewarding, unique program that gave real world experience in the engineering field. I signed up again this year and it was just amazing, if not better." 
Senior Ella Gielstra also participated in the program the year prior. This year, she won two scholarships amounting to $5,000. 
"It was definitely a surprise [when I was awarded two scholarships]," Gielstra said. "I wasn't expecting to get called up again to grab another one. I didn't win any scholarships or judgment prizes last year, but this time my group and I definitely took the cake." 
For her project, Gielstra worked with senior and $5,000 scholarship winner Katarina Peña. They were in a group together and designed a library inspired by the city of Tokyo, Japan. 
"I liked collaborating with other people because most of them were from different schools and districts around Austin," Peña said. "You get to see the minds from LASA and Austin High School and have the input from real architects and construction workers." 
Senior Divya Pochimcherla won a $1,500 scholarship and will utilize the money to pursue a career in mechanical engineering. 
"Our city was Stockholm, Sweden so we took inspiration from architecture in the area and libraries in the country," Pochimcherla said. "We started with some ideas and napkin sketches, then moved onto floor and exterior plans. When the design was done, I modeled it on Revit and architecture software. My favorite part was collaborating with my team and coming up with ideas." 
Gielstra believes the program's mentors equipped her with the necessary tools for her intended career, landscape architecture. 
"I was assigned an amazing mentor who had an important role in the project when it came to helping us get the resources we needed," Gielstra said. "She introduced me to a program that I will be using in the future for my major and that was one of the best parts for me because I need that knowledge for college." 
Similar to Gielstra, Peña believes the ACE Mentor Program further developed her skills for her future college career. 
"I plan to go into landscape architecture and it's going to be a lot of very similar stuff to what we did in the project," Peña said. "This is why ACE is such a great program if you're going into any of the specialties. It shows you how you're going to do everything and what it's going to be like to work with others in your field." 
After high school, Podnar intends to pursue a career in civil engineering. The $10,000 will help her cover her tuition costs and facilitate her college experience. 
"ACE was a big reason as to why I'm going into civil engineering," Podnar said. "I had the opportunity to talk to actual civil engineers who work in the field and who were able to tell me what they do in their careers. College is really expensive, so having any amount of money to help out with that is great. I am so thankful." 
Leave a Comment
About the Contributor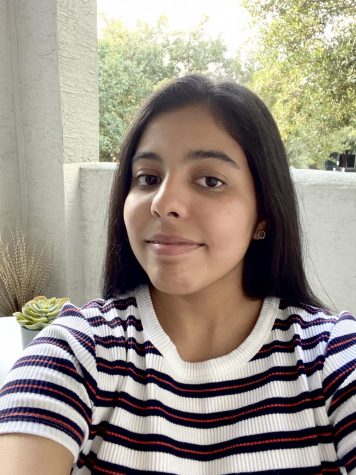 Laura Rivera, News and Life & Arts Editor
Hi, I'm Laura Rivera and I'm a senior this year. This is my third year working for the Trailblazer, but fourth as part of the journalism department....