Foreign exchange student makes the trip from Italy to Texas
Opportunity, independence, new experiences.
These were the motivations for Giada Frappietri as she made the journey from her home in Italy to Texas to live out her junior year as a foreign exchange student.
"It's always been my dream to go to another country, especially here in America," Frappietri said.
The decision to get involved with the EF High School Exchange Year program began a year ago in September when Frappietri reasoned that to learn English better, she should go to live in the United States.  
Initially her parents were reluctant, citing the hundreds of miles between Italy and America and concerns about safety. In the end, Frappietri was able to gain their permission by explaining how it meant a lot for her future.
Despite the seven hour difference, Frappietri makes sure to keep in touch with friends and family back home.
"I talk with my friends in the morning, [my parents] sometimes do Facetime," Frappietri said.
Being a foreign exchange student in America means Frappietri is surrounded by a new way of living and new people.
"The culture is more interesting. I've learned a lot of things," Frappietri said about being introduced to American culture.
A few of the differences between Italian and American culture include an earlier dinner at 6 p.m. as opposed to 8:30 p.m in Italy, and going to church every Sunday here in America.
Frappietri said that high school in each country definitely has its fair share of perks, with school in Emilia-Romagna starting early and ending early. Since school ends at 2 p.m. in Italy, lunch is a later affair, so Frappietri has had to adjust to eating lunch during school hours. One major perk in American schools includes which days school is required.
"There's no school [here] on Saturday, we get the day off," Frappietri said.
She is especially excited about the extra day off, explaining how in Italy Saturday counts as a full school day, leaving Sunday as the only day to relax and catch up.  
An extended weekend is just an added benefit to an experience that has bigger awards, such as new opportunities for work and adjusting to being on her own.
"I will come back when I am older to find a job," Frappietri said. "After this year my English will be better, and it will be easier,"
Frappietri chose modeling as her specific area of study in Italy and having connections in the United States is an advantage.
Her brother runs a fashion business, understanding that to go into the fashion industry, experience and connection will be extremely helpful. As a result, he has been her main supporter.
She hopes to be back next year as a senior, so that she will be able to participate in graduation and gain a more cohesive experience as an American student from Italy.
Frappietri is still in the beginning of her year as a foreign exchange student, and she's looking forward to what her junior year in the U.S. has to offer.
"I will grow a lot and I can have an open mind about the rest of the world," Frappietri said.
About the Writer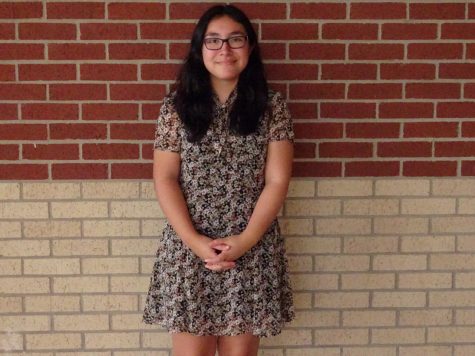 Megan Garcia, Editor-in-Chief, Entertainment Editor
Hi! I'm Megan Garcia and I'm very excited to be Editor-In-Chief and Entertainment Editor of The Trailblazer this year! This is my second year on staff...