Girls Take the Field
As girls flag football garners more attention, junior Trinity Hutchins competes in the NFL flag championship.
Trinity Hutchins is no stranger to the roar of the stadium. She hears it now – loud in her ears – as fans near her yell for the other team. She's been playing sports for as long as she can remember and flag football for the last decade. It's hard to rattle her. But today, the venue is huge and the stakes are high. With a minute left before the game begins, she stands on the sidelines and takes it all in. All of the time spent playing with her team, Texas Fury, has been leading up to this moment. She knows she's lucky to be here. Whatever comes next, she feels that they're ready.
"Before the game, we were really nervous because we saw more and more people entering the stadium, getting more crowded by the second," Trinity said. "We heard the opposite crowd trying to get in our heads. We were trying to get our minds right but when the whistle blows, it's time to go."
Trinity is in Las Vegas playing in the flag football NFL Pro Bowl, the championship for a league of girls flag football teams across North America. She's back here for the second year in a row, with her team returning as defending champions. 
"Last year we won the NFL flag football tournament and we also won a couple of women's tournaments," Trinity said. "It was really fun because we finally worked on what we needed to improve and we celebrated as a team. We were so happy we finally got what we wanted."
Sports have always been an important part of Trinity's life. At McNeil, she plays on the varsity basketball team, which recently won the district championship. Outside of school, she's been playing flag football since elementary school.
"At the age of seven, I was playing flag football kind of as a joke," Hutchins said. "I started playing the sport because I saw my cousin playing it and I thought it looked fun. But at this time, there were only boys teams that had flag football so I was playing with boys teams. But as the years went by, there were more girls teams and it was slowly growing bigger as a girls sport."
In the last decade, girls flag football has experienced a boom in popularity. Across the country, state athletic associations are officially recognizing girls flag football as a high school sport and colleges are offering scholarships for girls to continue playing after high school. At the professional level, the NFL is making the push for flag football to be included in the 2028 Summer Olympics.
"This sport is growing really fast for us," Hutchins said. "You can play flag football for college now. You can get scholarships. For our ages there's already a national team and I know for a fact, that around 2028, USA women's flag football is going to be official. You can try out and actually play against women.  I'm really excited for that, for the future."
The fan base for flag football is expanding along with the sport. Though Texas Fury lost the championship game, ultimately winning second place in the tournament, they were met with an exciting surprise after the game. As they came off the field, their coach told them that their game had been aired on ESPN, to a bigger audience than they'd ever expected.
"We lost, we got second place, but it was still a great experience to be on national television and get to play with the amazing, wonderful girls," Trinity said. "After the game, we were sad but we had to pick ourselves up because no one had the experience we had – to be on TV and play in the Pro Bowl. You have to think about how blessed you are in order to have the opportunity to play on TV."
Trinity says that with the growing attention on the sport, there has also been criticism directed towards the players, due to bias over girls in football. She says this is most common on social media, where people believe they can post their negative opinions without consequence.
"They never say it to our face," Trinity said. "I saw a recent post with a lot of negative comments about us playing flag football. We still have good supporters, and we have to ignore the negativity, play ball and prove we can play as well as the boys. It's a really difficult situation."
Trinity said that the team wants to be an example for younger girls who might be interested in the sport.
"We just wanna show girls they can play," Trinity said. "You can play for your country, you can win championships and you can play against women. We want to show there are more opportunities for you to go to college and that you can be a girl playing flag football, too."
View Comments (1)
About the Contributor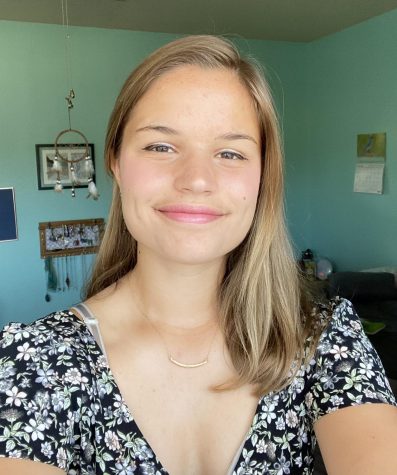 Carter Poore, Editor In Chief
Hi, I'm Carter. Other than writing and editing for the Trailblazer, I am the girls tennis team captain and I enjoy reading, watching TV, going for walks...