What you need to know about Justice Amy Coney Barrett
On Oct. 26, Judge Amy Coney Barrett was confirmed as Justice to the Supreme Court of the United States, a month after her nomination. 
Shortly after Justice Ruth Bader Ginsburg's passing on Sept. 18, President Trump nominated Judge Barrett on Sept. 26 to the Supreme Court to fill the former Justice's seat. 
"Today it is my honor to nominate one of our nation's most brilliant and gifted legal minds to the Supreme Court," President Trump said during a press conference at the White House. "She is a woman of unparalleled achievement, towering intellect, sterling credentials and unyielding loyalty to the Constitution."
Justice Barrett was born in New Orleans, La. and is currently 48 years old, making her the youngest Supreme Court Justice out of the nine. She studied at the University of Notre Dame's law school and placed first in her graduating class. While working under the law system, she was a professor at her alma mater for 15 years and taught constitutional law, civil procedure and statutory interpretation. Justice Barrett was also a judicial clerk for Judge Laurence Silberman from the Seventh Circuit and former Justice Antonin Scalia from the Supreme Court. In May of 2017, President Trump nominated her to the U.S. Court of Appeals for the Seventh Circuit and she was confirmed by the Senate in October of that same year. As for family life, she's married to her husband, Jesse Barrett and has seven children, two of which are adopted. 
"Judge Barrett's service reflects an exceptional intellect paired with deep commitment to the rule of law," president pro tempore of the United States Senate Charles Grassley said during the first confirmation hearing. "She's received praise across the legal profession and ideological spectrum."
Justice Barrett leans towards the conservative side, making her the sixth conservative Justice. She's in favor of originalism, which is the belief the Constitution should be interpreted according to its original meaning. She also supports the pro-life movement. Justice Barrett is Catholic, influencing her opposition to gay marriage. Democrats have expressed their concerns regarding Justice Barrett, since her views allegedly contradict Justice Ginsburg's. Her confirmation, according to some, could potentially dismantle the former Justice's work, advocation of women's rights and her support of the pro-choice movement. Democrats also disagree with Barrett's nomination and confirmation occurring days before for the election. 
"It is a sham," Senator Klobuchar said during the first confirmation hearing. "It is a rush to put in a Justice. The last time that we had a vacancy so close to an election was when Abraham Lincoln was president and he made the wise decision to wait until after the election. That's what he did. And that is that in an election year, the people choose the president and then the president nominates the Justice."
Justice Barrett began to work in SCOTUS the day after her confirmation and will continue to do so until she sees that her retirement is fit, considering this is a lifetime appointment. 
"The president has nominated me to serve on the United States Supreme Court and that institution belongs to all of us," Justice Barrett said in a press conference at the White House. "If confirmed, I would not assume that role for the sake of those in my own circle and certainly not for my own sake. I would assume this role to serve you. I have no illusions that the road ahead of me will be easy either for the short term, or the long haul. I never imagined that I would find myself in this position, but now that I am, I will assure you that I will meet the challenge with both humility and courage."
Leave a Comment
About the Contributor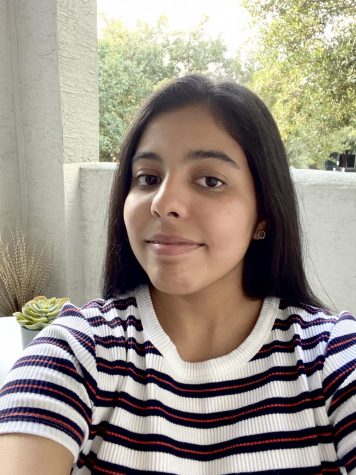 Laura Rivera, News and Life & Arts Editor
Hi, I'm Laura Rivera and I'm a senior this year. This is my third year working for the Trailblazer, but fourth as part of the journalism department....