RRISD Board of Trustees Approves Pay Increase for Educational Assistants
The RRISD Board of Trustees unanimously approved an hourly wage increase for regular Educational Assistants (EAs) and EAs who form part of the special education staff, in a meeting on March 31. The pay increase is set to be implemented for the remainder of the 2021-2022 school year and continue for years to come.     
In RRISD and other educational institutions, EAs are in charge of helping leading instructors with their school duties in the classroom. These tasks range from creating class lessons or activities, to supervising students' learning process while the leading instructor teaches. The pay increase for both types of school personnel will range from 10% to 18%, depending on the current pay rate and employment level. Those who are starting level EAs will have a $2.35 hourly pay increase from the current $13.15 to $15.50. Meanwhile, intermediate level EAs will experience a $2.68 hourly increase from $16 to $18.68, while those on the highest level will receive $3.01 extra from $18.85 to $21.86. The pay raises are funded through salary savings from unfilled staff positions. The estimated spending for the increases will cost RRISD an additional $470,000 for the remainder of the school year. 
"I am so proud that this action means that educational assistants in Round Rock ISD will be the highest paid in Central Texas, and I look forward to doing more when we consider the compensation plan for next year," RRISD Board of Trustees President Amber Feller said in the RRISD newsletter announcing the hourly wage increase. "As a Board, we will do all we can to support and fairly compensate our staff members, but we call on state legislators to prioritize education funding and make sure local school districts have the resources to pay educators what they are worth."
Special educational assistants also received hourly wage increases, but they differ from those of regular education assistants. Beginner special education assistants will have a pay increase of $2.02 from $15.92 to $17.94, while intermediate assistants' hourly wages will receive $2.21 extra from the current $19.41 to 21.62. As for those on the highest level, they will have a $2.40 increase from $22.90 to $25.30. 
"Our instructional support staff members are crucially important to the success of our students and we know their pay does not match the value they provide our campuses," RRISD Superintendent Dr. Hafedh Azaiez said in the newsletter. "This is an area that needed to be addressed immediately and I am grateful to the Board for recognizing the importance of this move."
Prior to the implementation of the pay increase, several EAs from the district asked for the hourly wage to change in a meeting with the Board of Trustees on March 24.  One of them was EA Cindy Hernandez, who was one of the effort's leading figures. 
"For many years I have thought that EAs have been grossly underpaid, considering our duties and responsibilities," Hernandez said. "We have a vital role in the care and educational needs of our students. I felt extremely happy when they approved the pay increase. It was nice that our voices were heard and they took such quick action in the matter."
Even though Hernandez thinks that the hourly wage increase is a step in the right direction, she still believes that EAs are underpaid. 
"I believe that we actually should be paid more because of our roles in the care and education of our students," Hernandez said. "I am, however, happy that the board chose to give us the pay increase with the expectation that this is not the end of more increases in the future. Since we are in need of more EAs in the district, hopefully the increase in hourly wages will attract more qualified candidates." 
Leave a Comment
About the Contributor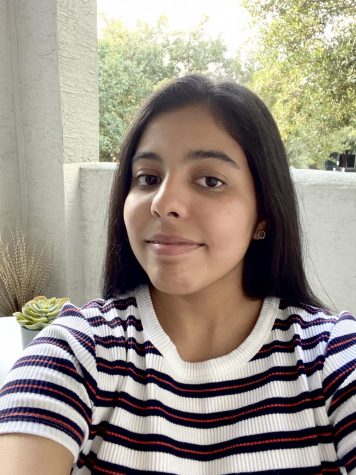 Laura Rivera, News and Life & Arts Editor
Hi, I'm Laura Rivera and I'm a senior this year. This is my third year working for the Trailblazer, but fourth as part of the journalism department....