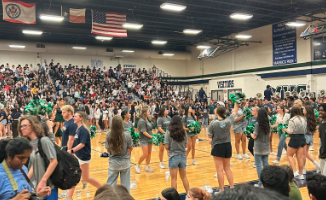 The first pep rally of the year, hosted by the Student Council, was held in the gym during the last fifteen minutes of the first period and flex on Friday, Sept. 15.
During the pep rally, the Band, Choir, Majestics, K-Pop Club and Cheer performed. Mav Swim and Dive, Tennis, Special Olympics, Sapphires, Football and Volleyball spoke and made appearances.
As per tradition, the students played Battle of the Classes, a competition where all grades yelled as loud as they could to see who was the loudest. The seniors won this game.
The activity of this pep rally was musical chairs. Three rounds were played with groups of four people. The winner of the first round was senior Milan Eskew. The winner of the second round was freshman Montana Burks. The two winners came together for one more round with the addition of English teacher, Erin Balfour and Assistant Principal, Meredith Lee. The winner of the final round was Milan Eskew, who received a $15 Starbucks gift card for the win.
Story continues below advertisement
"Honestly at first, I was nervous [for musical chairs] but as soon as they said 'Starbucks gift card'… Starbucks was my number one motivation," Eskew said. "But the people, the crowd, the student section, that's everything you need."
The rally was held in anticipation of the Football team's first district game against the Manor Mustangs at 7:00 p.m. today, Friday, Sept. 15.