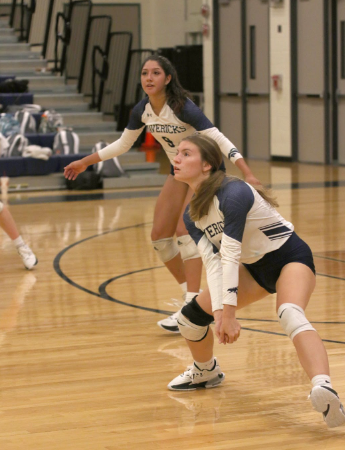 Playing hard up until the third set, the varsity volleyball team faces a loss 3-0 to Cedar Ridge on Friday, Sept. 8, on their home court.
The Mavericks started the first 2 sets with a 5-8 L point difference but then soon caught up in the third set and managed to keep a 3-4 L point difference. However, the volleyball players had high expectations for winning, due to it being their first district game.
"Even though the other team was at the same skill level as us, it was our first district game which made me more nervous," Kira Dagenheart said. "There was also a big student section and that impacted my performance especially when the other school had a big student section as well. It gets really loud and it adds to the competitiveness of the game"
Although the team didn't walk away with a win, the Lady Mavs got a lot of kills and were able to fight through adversity. The players know what they need to work on to improve for the next game.
Story continues below advertisement
"You can tell when things start to go downhill between everyone because we play really well when we are having fun but once we start struggling people start getting in their heads which affects everyone not just them," Dagenheart said. "We weren't really working as a team, everybody got upset really fast and that really impacted how we played."
Through this tough loss, the players know that with better communication they will be able to succeed.
The Lady Mavs will play again Friday, Sept. 15 at 5:30 p.m. against Manor on the road the theme will be black out the Mustangs.