Thrilled to be American
ELL students participate in traditional Halloween activities
Hang on for a minute...we're trying to find some more stories you might like.
The late-night-scary-movie marathons, entangled in blankets while stuffing their face with pumpkin spice everything and abundant bags of candy, and Halloween.
To Americans, it's normal to see giant skeletons, spider webs, and pumpkins with scary faces, on everyone's front lawn while driving by. To us, this is just another holiday; this is Halloween. For students new to the United States, this is an entirely new autumn tradition.
"It's pretty cool to see everyone wear costumes and to get candies," freshman Samuel Guan said. "I'm from China and I went to an international school for middle school and we did have a Halloween party. But it's cool to be able to wear costumes and do something fun."
Halloween can be a bit of a culture shock to residents who have moved to the United States, because it originally celebrated the end of the harvest season. This holiday gives insight to the unique traditions and activities that go on in the country, such as pumpkin carving, dressing up in costumes, trick-or-treating and haunted houses.
"We decided to have the social studies teachers and the administration staff do trick or treat for my students," English Language Learner teacher Brittany Bussell said. "I thought it was a great way to let them get a look for the first time at a holiday they can participate in. It was fun to see them carving pumpkins because only three of them have ever carved pumpkins before."
Besides roaming around the hallways in search of a treat, the class also engaged in pumpkin carving: seeds, shovels, and all.
"I have never carved pumpkins before, but it was fun. I carved a face in the front and the back of the pumpkin," freshman Peter Moon said. "Scooping the seeds was the worst part because it was gross. But adding the details was fun once you carved it out. You got to see what it looked like after it was done."
One thing was for sure: Halloween was an undeniable favorite for many.
"This is my first Halloween, and it's interesting because this is my first time trick or treating," freshman Camila Barajas said. "My favorite part was getting candy, because in Mexico we have the Dia De Los Muertos and they don't give out candy. My favorite candies are Kit-Kats and Hershey's."

About the Writer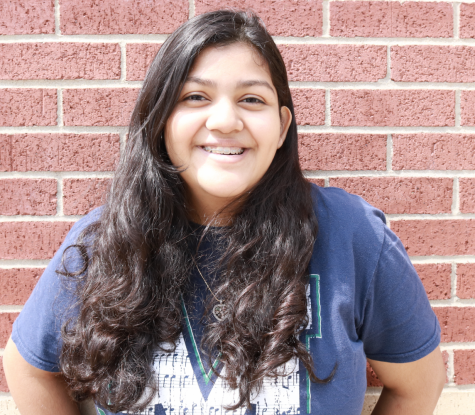 Desirae Gonzalez, Editor In Chief
Hello, this year I'm a sleep deprived senior and Co-Editor-In-Chief. I've been on staff for three years and I've enjoyed every hilarious and weird moment...