Little Bit of Magic
YA author Stiefvater visits Texas Book Festival for panel about new book
Sunlight warmed the crowd's faces as the bustling noise surrounding the Texas Book Festival's YA HQ tent created a sense of anxious excitement. On Nov. 5, the tent became packed with fans waiting to hear #1 NYT Bestselling author Maggie Stiefvater talk about her new standalone novel All The Crooked Saints.
Right from the start, moderator Sarah Pitre emphasized how All The Crooked Saints, set in 1960s Colorado where a family of Mexican saints perform miracles, is a notable departure from Stiefvater's past work.
Yet All The Crooked Saints cannot be mistaken for anything other than a Maggie Stiefvater book. There are still elements of magic present, the variety of characters within the novel each have their own story and qualities that draw in the reader's attention, and the setting acts like the final character essential to the story.
But there is a lightheartedness and feeling of joy Stiefvater emphasizes as integral to her purpose with writing this novel, which sets this book apart from her previous books.
What changed?
Unable to ignore the state of the world, Stiefvater wrote a book of miracles and whimsical characters in Colorado in response to what she saw happening outside her window.
But first, she had to draw on her knowledge and research of saints and the desert to craft a book full of stories and places that already had a rich history behind them.
"I'm a huge fan of saints in general," Stiefvater said. "I dove into all this folklore and tried to be faithful to Mexican saints and some of their folklore."
And Colorado proved to be the best place for the home of the Robles family of saints. Stiefvater's story of her journey into Colorado involved broken cars, a dozing husband, ghost stories and deserted towns.
It became obvious that broken down cars and Stiefvater go hand in hand as she turned the focus to her many car troubles during book tours.
The crowd swelled and fell with laughter as Stiefvater detailed how she recently "got pulled over in [the truck] and I was like 'officer I was going the speed limit' and he goes 'yeah but it looks stolen'."
And the laughter never stopped as readers and fans in the tent witnessed Stiefvater tell her stories of car drama, her brief but blazing triumph over proving piracy was a direct factor in her book sales, and her desire to create characters who have good intentions but still have their own darkness within.
Stiefvater ended her panel with a surprise: she would perform a bagpipe solo for her readers. Her talent with playing bagpipes was no secret to her fans, but it made the talk all the more memorable to hear a favorite author play her favorite instrument for a crowd who wanted nothing more than a story to be told.
About the Writer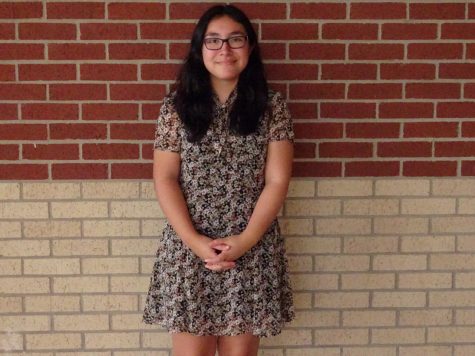 Megan Garcia, Editor-in-Chief, Entertainment Editor
Hi! I'm Megan Garcia and I'm very excited to be Editor-In-Chief and Entertainment Editor of The Trailblazer this year! This is my second year on staff...