1964: Band's New Beginning
For the band, football games are more than just cheering on the team and playing in the stands. The traditions that go with them and the excitement of watching the game help to make every Friday exciting. But above all, when the second quarter runs down to zero, it's a performance. 
First, the Majestics take the field for their routine. Then, the show beings.
The band's show this year is entitled 1964: The Future is Now. It's a take on retro-futurism, or what people used to think the future would look like. The band played three movements last Friday at the game against Vista Ridge, and performed competitively over the weekend. But, one of the things that makes this show special is the progress it's made so early on.
"I love it. The vibe is so positive," band director Joshua Munoz said. "It's been so positive since day one of summer band, and the group has never rehearsed this well before. Everyday, it feels like we're able to get more and more done, and we feel really fulfilled because we're so feel collected. I mean, it's just been great. I go home everyday with a smile on my face." 
The band had not made such progress with shows this quickly in previous years, and having three movements on the field by the third football game is a welcome surprise and a great step forward in the eyes of many members.
"I'm excited about this year's show because so far, we've been able to make excellent progress on getting our show on the field," sophomore trumpet player David Higgins said. "I feel like we are going to be able to do really well in competitions this season."
Rehearsing since early August, and with after school rehearsals almost everyday of some sort, rain or shine, the program is a big time commitment for the people involved. This kind of dedication is necessary when their show is going to be judged nearly every Saturday from now on at various competitions.
"We stay up super late, but we do it because it's enjoyable, and you get to be with your friends," junior flute player David Reece said. "Playing is exciting also, and when we work really hard and then do really good at competitions it's fun."
Last Saturday, the band headed to McAllen for their first Bands of America competition, where they performed their show against over 26 other bands, and took fifth place in the finals competition. The directors say that they'd been preparing since the beginning.    
"We're always building towards our performances," Munoz said. "It's an ongoing process, but everything that we've done daily, weekly, monthly, has been gearing up towards big checkpoints. This was a different kind of performance because it's in front of judges, and so it's kind of a culmination of those prior checkpoints."
Among the veterans that have marched in the previous years, there are also a large number of freshmen who only made the switch from concert playing to marching band this summer, and yet are still able to keep up with the older members on the field.
"When I came to marching band I almost had to entirely relearn how to play part of my instrument and play in a different way," freshman trombone player Aniruddh Mishra said. "It was kind of a challenge, but it was also really fun because I learned a new way to play the trombone."
From football games to their specified competitions, the band is hopeful for the turnout of the remainder of the season, all leading up to a huge contest in San Antonio on Nov 1. For now though, it's after school rehearsals, maintaining the momentum and energy. 
"I think that this season's progress for me has been so gratifying because it looks like what I've always wanted a band to function like, where it feels like everyone is moving in the same direction at the same time," Munoz said. "That's a really special thing. You can't force that to happen. I think everyone can feel it, feel the positivity, and I hope that it's something that will stick with us."
Leave a Comment
About the Contributor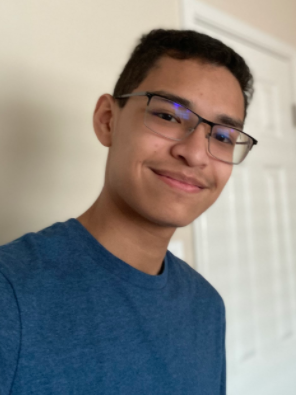 Ruben Flores, Editor-in-Chief and Opinions Editor
My name is Ruben Flores, and I'm a senior This is my third year on staff. I'm a reporter, the  Opinions Editor and Editor-in-Chief. I play the bass...