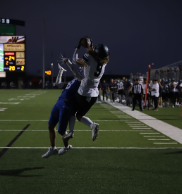 On Friday, Sept. 1 varsity football played Pflugerville for the second game of this season. Although McNeil had a rocky start, varsity ended up on top with a score of 44-27.
"We started off rocky, but we made mistakes as a team, and in the end, we were able to bounce back from being down 0-7 and we took the game away," sophomore, quarterback Jadon Sultz said.
Pflugerville had a great start with a kick return, they put the offense in a good field position around the 50-yard line making a 15-yard pass into the red zone and running the ball in. But McNeil came back with a 25-yard run and a 30-yard pass setting us up for the first touchdown.
"Scoring the first touchdown was exciting, because it set the tone for the team," sophomore, wide receiver Jarell Gary said. "When we scored it showed we could stop Pflugerville on defense, we showed them what we could do, and carried that on throughout the game".
Story continues below advertisement
Varsity's defense started off low In the first half, but they put up a good fight scoring a fumble recovery touchdown, bringing up the team's momentum.
"It was a pull and play," senior, nose guard, Jaden Wellmaker said. "After my teammate hit Pflugervilles quarterback I saw the ball on the ground and I hurried to pick it up, and when I saw a clearing I ran it to the endzone".
Jaden Wellmaker set the tone for the night and built the team's momentum putting Mcneil up 21-7. Varsity had a great second half with Zach Christie and Jadon Sultz ending the game on a high note.
"It was great closing the game on a touchdown," Sultz said. "Zach did a great job on knowing where to be and sealed the game off on a winning note".
Last Friday varsity had a great night, McNeil is going into this season 2-0 W. Let's see how the Mavs handle the Hawks on Thursday, Sept. 7 at Kelly Reeves Athletic Complex