Easter becomes newest member of campus admin team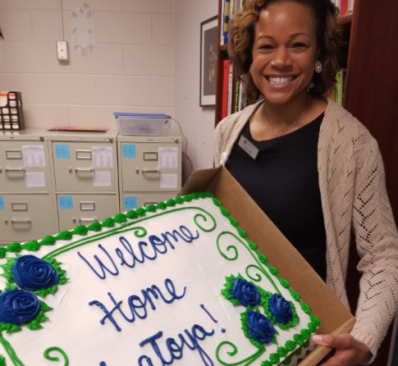 Advertisement
Hang on for a minute...we're trying to find some more stories you might like.
After a spell at Rouse High School, Latoya Easter joined the McNeil administrative team as associate principal.
For her, the choice to become a part of the Maverick community was clear because of the reputation MHS has for having both students and educators committed to the school culture, the focus the faculty and staff have on student achievement, and the positivity of the student body.
Despite only being here a short period of time, Easter has high hopes for the future as she looks forward to helping reach the campus vision and goals.
"I have a strong passion for education because it was and has been the catalyst for the achievements in my life," Easter said. "Helping others reach their goals and being able to have an impact on students' educational experience is something that drives my motivation and is extremely important to me."
The biggest difference between McNeil and other schools she has worked for is the true feeling and productivity of work Easter has come across. This, along with the abundant support for students and the devotion to ensuring success, has made Easter feel like this where she was meant to be.
"I have been welcomed with the greatest level of support and guidance that anyone could wish for; from Mrs. [Courtney] Acosta, to the leadership team, the office staff, teachers, students," she said. "Amazing is the only word I can use to describe the welcome I have received."
After a career in the school system, Easter feels a deep commitment to education.
"At the end of the day," Easter said. "I want to serve people – staff, students, parents, the community – every stakeholder who is essential to student success. Ultimately, that is what matters to me most."