Andrea Larson Nominated as a Secondary Texas Teacher of the Year Finalist
McNeil High School teacher Andrea Larson will compete against two other finalists for the Secondary Texas Teacher of the Year Award. The winner will be announced on Oct. 21 during a special luncheon to honor all finalists. 
Prior to being selected as a finalist, Larson won RRISD's Secondary Teacher of the Year competition in May and most recently was named Region 13's Teacher of the Year in August. Larson advanced to the Secondary Texas Teacher of the Year finale after the Texas Administration School Administrators (TASA) selected three state-wide Teacher of the Year regional winners to compete for the state award. 
"The funny thing is that I was actually out sick on the day the finalists were announced," Larson said. "I got a phone call at home from a district phone number and when I answered, I was told that Dr. Azaiez would like to speak with me. He told me over the phone that I had been named a finalist. I didn't celebrate that day, but on the following Monday, Dr. Azaiez and Dr. Mya Mercer came along with other district staff to bring me some flowers and balloons." 
Currently, Larson is the ESL (English as a Second Language) Program Coordinator and instructs teachers who are part of the UTEACH Liberal Arts Program. She creates a positive environment for her students and guides them along in their endeavors. 
"My goal is that every student feels welcome and valued," Larson said. "I want students to know that they can be successful in school no matter what obstacles they may face, and that they will be supported along the way. When students can't imagine a goal beyond getting through the immediate days ahead, I share my belief in them while they gain confidence in themselves. I think that is what we all need: someone who believes in us and supports us, even when we don't quite believe in ourselves."
Larson is not aware of the exact reason why she was nominated as a Secondary Texas Teacher of the Year Finalist, but she is thankful that her colleagues noticed her work ethic and nominated her. 
"I have been a teacher for a long time and I have worked alongside so many hardworking, dedicated colleagues who do so much to support their students and one another," Larson said. "I don't believe that I deserve this award any more than they do. The fact that my colleagues here at McNeil chose me as their teacher of the year means so much to me because they know me and they can see the work I do every day. They know that I care deeply about this school, the students we serve and the well-being of our staff."
If chosen as Secondary Texas Teacher of the Year, Larson wants to encourage others to defend the public education system. She's aware there are pre-existing problems, but believes they can be overcome. 
"If I were to win the Texas Teacher of the Year award, I would want to promote the idea that despite systemic flaws and external factors that have led us to a point of crisis in public education, public education is an essential component of the highest ideals of the United States," Larson said. "Changes are needed, but the institution itself is worth defending and rebuilding. 
Larson would use her role as a winner to ensure that teachers' efforts are acknowledged and appreciated. She also would like to secure high quality education and a strong support system for all students.
"One fundamental building block in the renewal of public education is ensuring that the teaching profession and the individuals who choose it are valued for their expertise, effort and commitment," Larson said. "Another important piece is bolstering the support systems that ensure a high quality and equitable education that enables all students to reach their highest academic potential in a physically and emotionally safe environment. Every student and every educator is valuable and should come to school each day knowing that they are seen, cared for and encouraged to be their best."  
If interested in seeing Larson's reaction when she was nominated as a Secondary Texas Teacher of the Year Finalist, click here.
Leave a Comment
About the Contributor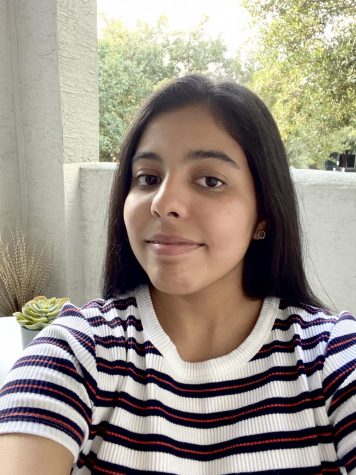 Laura Rivera, News and Life & Arts Editor
Hi, I'm Laura Rivera and I'm a senior this year. This is my third year working for the Trailblazer, but fourth as part of the journalism department....